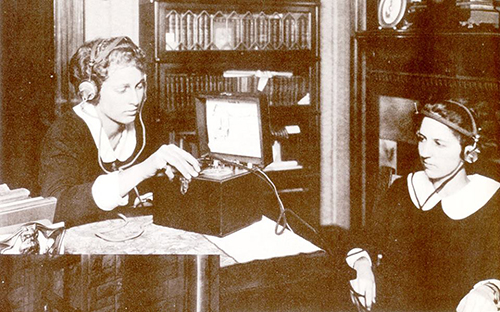 WMCK.FM is a project of Tube City Community Media Inc., which in 1996 launched Tube City Online as the first website on the Internet about the McKeesport area. It began as a hobby, but has grown to encompass news, community announcements, and historical articles of interest to current and former residents of the McKeesport area.
It was incorporated as Tube City Community Media Inc. in 2009 and in 2014 received tax-exempt non-profit status under Section 501(c)3 of the U.S. Internal Revenue Code.
The main website (www.tubecityonline.com) attracts about 2,500 visits every week, or 130,000 per year. 1,200 people connect to Tube City Online via social media such as Facebook or Twitter.
In addition to its own website, Tube City Community Media Inc. also produces a website for McKeesport's annual International Village at no cost to McKeesport taxpayers, as well as audio and video coverage of International Village. More than 1,700 people watched Tube City Online's coverage of International Village; we believe a radio station would attract a different group of users than those who currently read our website.
Who is on the board of directors?
We have 10 people on our board of directors, including our founder. All of our board members all either live in the McKeesport area, or grew up in the area and maintain close family and professional ties. None has less than 15 years' experience in their chosen fields.
Our board members include an award-winning university public relations expert; two software engineers; an electrical engineer for one of the world's largest technology companies; a college teacher and administrator; a successful independent graphic artist; an emergency responder and Marine Corps veteran; and a retired federal employee.
Does your board have radio experience?
Yes! Our founder has 15 years' experience with both commercial and non-commercial (public) radio stations. Another board member has experience with the Armed Forces Radio & Television Service and helped launch two successful community Internet radio stations in the Washington, D.C., area.
In the summer of 2009, we broadcast live, continuous coverage of McKeesport's International Village over the Internet; and we also began recording concerts by the McKeesport Symphony Orchestra, which were aired on Pittsburgh's WRCT-FM (88.3).
Two years ago, in 2013, we added video to our International Village broadcast. In 2014, we began producing a weekly McKeesport-focused talk show as well as public service announcements for WEDO-AM (810), and a program called "McKeesport History Minute."
Why is a community radio station important?
At a 2006 United Nations conference on community radio, one participant presented a study reporting that in under-served communities, community radio stations promote development and improve the standard of living:
Community media emphasizes ... empowerment of people with their active participation in the process, not (just) as passive consumers/listeners. It has specific objectives to promote ... local knowledge, cultures, human rights and social justice, environmental issues and community problems as well as the issues related to development. (Ahmed Swapan Mahmud, "The Role of Community Radio: Central to Development")
In a 2013 history of the Pacifica radio network, journalist, filmmaker and radio station manager Andrew Leslie Phillips, former general manager of KPFA radio in Berkeley, Calif., and an adjunct professor at New York University, wrote of community radio that it is:
(O)ne of the few places one might hear an opposing point-of-view ... community radio and citizen journalism seems more important than ever.
In their 2005 article "A Radio Station in Your Hands Is Worth 500 Channels of Mush," American radio engineer Pete Tridish and Dr. Kate Coyer, director of the Civil Society and Technology Project at Central European University in Budapest, Hungary, perhaps said it best:
Community radio is a participatory medium. It is a source of local, neighborhood-based news and information. It is media without intermediaries, a counterbalance to the world of corporatism. It is radio run for its own sake, for the benefit of the community, rather then for the profit of station owners ... It can serve as a great training ground for youth to learn to speak publicly, to fix things, to raise money, to plan ambitious projects ...
Non-commercial voices in media are similar to public parks, or public libraries. They are public institutions that exist where the market cannot or will not provide for the common good.
Despite this, there is no non-commercial, community radio station in McKeesport, Pa.
Why hasn't there been a non-commercial, community radio station in McKeesport until now?
McKeesport suffers due to its proximity to Pittsburgh. Radio stations historically located in McKeesport have focused their efforts on the larger Pittsburgh community.
Why an Internet radio station, instead of a "regular" AM/FM radio station?
Radio frequencies are carefully controlled by the Federal Communications Commission to prevent harmful interference.
In 2014, a group affiliated with the White Oak Safe Haven Animal Shelter attempted to launch a new low-power FM radio station in White Oak, Pa. Commercial radio stations as well as a non-commercial station owned by the University of Pittsburgh objected to the application and it was dismissed by the FCC.
As a result, there are no new radio station frequencies available in the McKeesport area. Purchasing an existing radio station license and moving it to the McKeesport area would cost $250,000 or more.
What kind of content will we hear on your radio station?
The exact format for the radio station is still being worked out, but we can say with confidence:
1.) All of the programming decisions will be made in McKeesport.
2.) All of the programming will be non-commercial in nature.
3.) Community announcements will be broadcast on an hourly basis.
4.) New and local music will constitute much of our daily programming.
5.) Community volunteers will host talk shows and music programs—several local residents have already expressed an interest in becoming program hosts.
6.) Live coverage of local events and entertainment will play an important part in our programming strategy.
7.) We would hope to swiftly add news broadcasts, including broadcasts of local meetings, debates, and community forums, as time and funding permit.
Will people listen to your radio station?
We believe they will. We believe our product will be of a high-quality, featuring local content, and with programming unavailable elsewhere. Our station will be available to anyone using a computer, laptop, tablet, or smart-phone. Internet radio stations are the fastest-growing segment of radio.
According to the annual "Infinite Dial" report from Edison Research and Triton Digital:
47 percent of all American radio listeners used Internet radio in 2014
Those listeners spent an average of 12 hours per week with Internet radio
61 percent of Americans own a phone capable of streaming Internet radio
21 percent of radio listeners are already using Internet radio in their cars
35 percent of motorists without Internet radio capability want it in their next car
Will you attract funding from listeners in the community?
We have set a tentative fundraising goal of $1,000 in community support for our first year. We are registering with the Pennsylvania Bureau of Charitable Organizations and will begin soliciting public donations in the Second Quarter of 2015.
Once we have established the station and begin to attract listeners, and interest, we will increase our annual fundraising goals.
Will the station need additional foundation support?
Regrettably, we anticipate asking for foundation support and corporate donations on a regular basis. There is currently no viable for-profit business model for community media in the United States.
The biggest experiment in for-profit community journalism was conducted by the owners of the very successful Huffington Post website. Called Patch.com, it was founded in 2007 as a network of more than 900 neighborhood news websites in communities throughout the United States. After losing a reported $200 million to $300 million*, Patch.com laid off virtually all of its paid reporting staff and closed more than one-third of its websites; the remaining websites are run by volunteers. (*Source: New York Times, Jan. 15, 2014.)
Where will your studios be physically located?
To make the station as convenient as possible for members of the community, we are committed to keeping the station along a major bus route in the McKeesport area—likely along the Walnut Street, Lysle Blvd (Route 148 corridor).
Our radio station is located on the second floor of the former McKeesport Daily News Building, now called the Tube City Center For Business & Innovation on Lysle Blvd, Mckeesport. This location is being rented to us at significantly less than market rent.