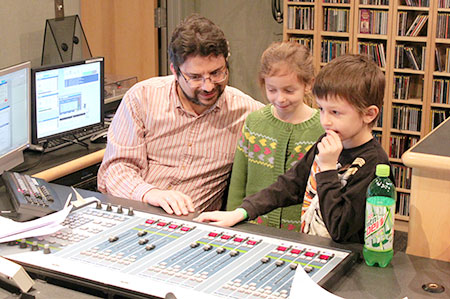 ---
Starting Oct. 10, WMCK.FM Internet Radio is proud to become McKeesport's home for The Saturday Light Brigade, one of America's most unique, and longest-running, public radio shows, broadcast live from the Children's Museum of Pittsburgh.
The affliation is especially appropriate because SLB is also a partner with the McKeesport-based Consortium for Public Education as well as Propel School McKeesport. WMCK.FM will provide the first locally based outlet for content recorded by K-12 students in Mon Valley area schools.
Launched in 1978, The Saturday Light Brigade is a Saturday morning public radio program that blends acoustic music, live performances by youth and adults, participatory puzzles, on-air telephone calls, and interviews with other community-based nonprofits serving youth and families.
Larry Berger serves as host and executive director.
Programming grew substantially between 1990 and 2000, as SLB built a strong and loyal audience, winning 10 local, state and national awards. SLB launched a website in 1993 and, in 1996, created a printed newsletter of puzzles and games for families with a circulation of 10,000. The program scope expanded again in 1996, when SLB began conducting technical and self-expression workshops for children and youth from 8 to 18 years of age, including in McKeesport.
You'll hear SLB live from 6 a.m. to 12 noon on WMCK.FM, but you can tune in any time you like at http://slbradio.org, where it's "Always Saturday."
Additional content from SLB's parent organization, non-profit SLB Radio Productions, airs at other times of the week on WMCK.FM. WMCK.FM is airing public-service announcements recorded by McKeesport kids throughout its normal programming day.
In addition, WMCK.FM is broadcasting episodes of "Crossing Fences," a series of conversations between community leaders and young African-American men, at 1 p.m. Sundays and 5 p.m. Thursdays.